Members of the Creative Group recently visited the BytheWay site to walk the route the audience will take.  We were on the lookout for interesting or mysterious settings for scenes, images and happenings and found plenty! We have now developed a framework for the production and held two workshops on music and choreography. At the workshop on Thursday November 23rd we hope to begin to pull it all together. Read More...
WCT members were invited by Inside Out Dorset's Co-artistic director, Bill Gee, to attend Bistaki 's show, 'The Baina Trampa Fritz Fallen' performed in Hull in early September. Clare and David Small made the journey up to Hull on behalf of WCT. Clare describes the experience: Read More...
Thursday 28th September - Singing for Theatre led by Karen Wimhurst. Thursday 19th October - Movement for Theatre led by Jasmine Taylor. Thursday 23rd November - Sound and Performance led by Tony Horitz and Adrian Newton. The workshops will be held at the Methodist Church Hall, 4A King Street, Wimborne BH21 1DY from 7.30 – 9.30 pm Free to members of WCT and £5 a workshop for non-members. Read More...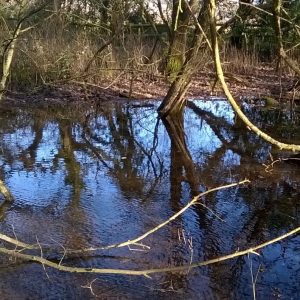 We have been exploring ideas for a sound performance in the boggy wood known as BytheWay, in Colehill, Wimborne. We are considering sounds and images associated with the natural environment of the area and its history... Read More...
WCT's annual Quiz Night on Wednesday 1st November was attended by around 60 people and raised £350 for our funds which will be spent on our next project at BytheWay. Read More...
John Somers (Drama Lecturer and Community Play Director) reviewed 'What They Left Behind' in the July issue of National Drama. Read More...
Nothing from December 17, 2017 to January 16, 2018.