As we prepared for What They Left Behind, members of WCT followed up research about families living in Wimborne during the First World War.
The Old Road Story
The Wimborne Minster Parish Magazines of the time were particularly rich in material. Canon Fletcher, who was the minister throughout the war, writes some stirring letters to his parishioners urging them to observe a more moral way of life. Each month he highlights the sacrifices made by the families of Wimborne, particularly the residents of Old Road, such as the Loder family who sent six sons to the War.  In 1917 he records "There are few districts in the kingdom which have supplied so large a number of volunteers as the Old Road, in Wimborne, has done; and Sergeant Rossiter is the seventh inhabitant, from a road which contains only 24 cottages, who has given his life for King and country." 
As the war continued more sons of Old Road were lost.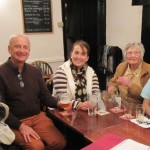 We held a meeting in the Green Man pub on the corner of Old Road for residents of that road, and those attending were intrigued to hear about the families living there whose sons were killed.
Apart from the Rossiters, the other families who lost sons were: Harvey, Gollop, Barrow, and Loader. A poem entitled, Patriotism At Wimborne – A True Story was written about the Loaders' story, and copies sold at one penny to contribute to St John's Nursing Fund. The poem is held in the archive at Priest's House Museum.
---
We also met Len Pearce, who talked about his research for the Memorial book held at Wimborne Minster, which gives biographical details about the men from Wimborne and surrounding villages, who died in the First World War. As a boy, he remembers meeting the widows of some of the men who died, and he recalled that his Grandfather was the Town Crier during that time.
The Town Crier's bell – the 11ins (30cm) high military-issue handbell, which has an iron clapper, dates from World War I when it was used for gas attack warnings.
Another very useful meeting was with the current Wimborne Town Crier, Chris Brown, to hear about his research into local families, particulary the Angell and Wareham families.
Many of these stories, particularly that of the Angell family, found their way into the final production and the Old Road story was the inspiration for a sound installation Anthem for Old Road by Adrian Newton in the run-up to the production.  Read more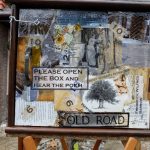 Listen
---