The collections below are materials from WCT's production of What They Left Behind in Wimborne town centre, in May 2016. View the production's page here.
For more information about the development of the production:  View the research materials page here.
Programme
---
 Poster
---
Photos
Albums
Selection – 9 moments from the production
Performance 25th May 2016
Dress Rehearsal
Informal Rehearsal Shots
Down the Garden Path Scene – Allenbourn Middle School Cast
Priest's House Museum Gathering Days Research
Installations and Teasers
Cast Walkabout
Costumes
Dance Workshop with Roz Conlon
---
 Original Music – Scores & Lyrics of Songs
Songs from the production – words by Gill Horitz from WCT and music by Karen Wimhurst, Musical Director.
View What They Left Behind (from the opening scene – On the Minster Green)
View  Nurses'  Song  (from the Red Cross Hospital scene – Church House)
View  Entertainment (from the Red Cross Hospital scene – Church House)
View  Resolution (from the final scene – Resolution – Minster Green)
©  All songs are copyright of Gill Horitz and Karen Wimhurst, 2016
---
Art Installations & Exhibition
More about the art & sound installations around Wimborne as a prelude to the production
---
 Dada Garden
View  An event of sounds and installations curated by Adrian Newton in the Priest's House Museum Garden in the run-up to the production
---
Reviews
Read two reviews: Mark Blackham at The Fine Times Recorder  & John Newth at Scene One
---
Audience Comments
Read the audience evaluation of the production, including all the comments made and letters of appreciation.
---
Videos
Documentary:  A short documentary by film maker Rob Hart on the making of What They Left Behind, including interviews with cast and crew and background on the research and process involved.

Rehearsal:   Watch a video of a rehearsal of What They Left Behind filmed on Sunday May 16th with an outline of the production by Tony Horitz, the Director.
VIdeo by Damien Stone
Performances:   Two versions of the full production of What They Left Behind in performance.
Video filmed and produced by Rob Hart
The alternative version filmed by Damien Stone

---
Developing the Project – Early Workshops
Read  Exploring research materials in workshops
Read  Notes from a workshop on Dreams and Reality
Read more and listen  Sound workshop
---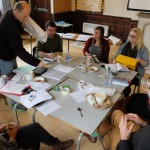 View  The professional artists' planning meetings
View  The costume team from the Arts University Bournemouth
---
Cast Walkabout
View press cuttings and photos of the cast walking around the town in full costume to promote the production .
---