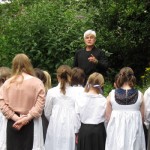 On Saturday July 19th 2014 Wimborne Community Theatre and school children from Allenbourn Middle School performed an experimental sharing of Letters to the Living, Songs to the Dead to an invited audience in a secret Forest Garden location in Wimborne town centre.

Synopsis
Performers from the group were hidden around the garden as the audience entered the site.  As they were led round the paths by a mysterious figure dressed in blue, they heard snatches of voices and sounds which conjured up images of the experience of war.  They listened to a poem recited by an elderly lady seated in the middle of the garden.  Then the mood changed as a group of school children entered the garden to collect conkers for the war effort and the identity of the figure in blue was revealed as a soldier, recovering from shell shock.
Lovely to see such a mix of ages working together.

Atmosphere and setting was appropriate to give a feeling of WW1.

Community theatre at its best.

I was genuinely drawn into the performance.

Interesting how the research emerged.
See photos of the production here
About the Production
This work-in-progress event marked the conclusion of a series of creative workshops over the last six months focusing on developing site-specific theatre. The workshops for WCT were led by Claire Raftery and Damien Wright of Brighton-based Periplum, and funded by a BBC Performing Arts Grant.  The after-school Drama Workshops for students in Year 8 from Allenbourn Middle School were led by WCT's Tony Horitz, (funded by a Dorset Community Foundation Education Award).  These workshops were also delivered to pupils from St Michael's Middle School working with pupils from Beaucroft School who performed the Conkerers scene for children, staff and parents at a school performance.
As a starting point, both groups used WCT's research about the lives of people living in Wimborne during the First World War. This was gathered at two Gathering Memories of World War One, held at Priest's House Museum, Wimborne in 2013.  Read more here. 
Archive materials
The following items from Letters to the Living, Songs to the Dead have been stored in our materials archive. Click here to view.
1. Programme
2. Photos of the production and rehearsals
3. Scripts and scenarios
4. Two poems from the First World War and words of a traditional folk song used in the production
5. Workshop notes – Letter Trail
6. After-School Drama Project – photos and evaluation report
7. Audience evaluation
8. Soundtracks
---