The collections below are materials from The Lie of the Land production in 2006. View the production's page here.
Programme
---
Press
View   Review from the Bournemouth Daily Echo.
---
Research with Local Residents
View   Original transcription of the views of Pamphill residents gathered by the group early in the process.
View   A conversation with residents about growing up and living in Pamphill in the past.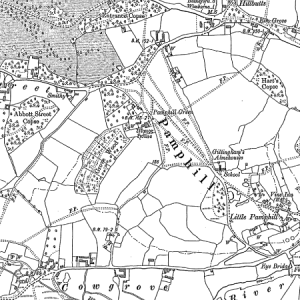 View    Memories gathered with Pamphill residents while looking at a map.
---
Poems
View   Poems written by the group on an early visit to the village.
---
Photos
Rehearsal 1, Rehearsal 2, Picnic, Photos, Second night.
---
Script
View original production script
View script as a PDF
© copyright of Wimborne Community Theatre
---
Songs
View  The Pamphill Story and Sleep Now (Elsie's Lullaby) – music and lyrics
View  Sleep Now (Elsie's Lullaby) – lyrics only
©  All songs are copyright of Peter Aston
---
Advertisement
View   Recruiting new members.
---
Production Video
The complete play in performance filmed and edited by Rob Hart.