Synopsis
Two influential local people, Charles Castleman, former owner of Allendale House, and Hilda Coles, whose vision led to the founding of the Priest's House Museum, each hosted an evening at their respective homes, to which some of Wimborne's most worthy residents over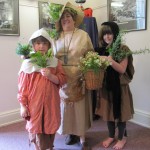 the last thousand years were invited.
They were challenged to compete for the title of 'Wimborne Worthy of Worthies'. Contenders included St Cuthburga, founder of the Minster Church, and Lady Margaret Beaufort, mother of Henry VII, as well as some lesser but equally significant entrants.
Wimborne residents were warmly invited to meet these notables and judge for themselves whose lives we hold in most esteem.
See photos of the production here
About the Production
The Quarter Jack's Challenge was first produced by Wimborne Community Theatre to celebrate the Millennium in 1999 and performed at Wimborne Minster on New Year's Eve.  It was revived in adapted form as a seasonal presentation and performed in June and December 2012 at two of Wimborne's most historic buildings: Allendale House and the Priest's House Museum.  The June production was performed on two occasions at Allendale House and further adapted as The Quarter Jack's Christmas Challenge for the December production at both venues.
Archive materials
The following items from The Quarter Jack's Challenge have been stored in our materials archive. Click here to view.
1.  Programme
2.  Flyer
3.  Press 
4.  Photos of the production
5.  Scripts
6.  Copying Architecture in an Old Minster – a poem by Thomas Hardy
7.  Opening soundtrack
---